We're not going to lie; the initial cost of a dental implant restoration in Australia is high, averaging at around $5514 per tooth. This is why this gold-standard treatment is a stumbling block for some people needing missing teeth treatment. As such, and understandably, some people decide to investigate other options.
While a person may save money initially, the price of not undergoing dental implant treatment can far outweigh any initial dental implant cost in the long term.
With this in mind, let's take a closer look at the implications of not undergoing dental implant treatment vs. other methods and the cost of not having dental implants. 
Firstly, what other methods are there for replacing missing teeth? 
Traditional dental bridges
In some cases, you may not be eligible for dental implant treatment, and your dentist may instead suggest a dental bridge. While a bridge does the job of restoring a tooth gap, it relies on the support of the two teeth on either side of the gap. These need to be filed down to accommodate the framework and therefore can become compromised. 
On the contrary, while dental implants cost considerably more, they are placed directly into the jaw, so they become a standalone structure, strong enough to support a bridging tooth. Therefore no other teeth are touched or harmed during a dental implant process. 
Partial or full dentures
If you have several missing teeth or need to replace an entire arch of teeth, then you may want to opt for partial or complete dentures. The national dental survey suggests that the cost of dentures can be anywhere between 30% and 50% less, so that's a considerable saving vs. the cost of a dental implant.  Yet conventional dentures, although more comfortable and lifelike than their predecessors, only have a shelf life of around 5-10 years. 
On the other hand, a titanium dental implant can last indefinitely, with the porcelain crown (the visible part of the restoration) lasting 10+ years on average.  
So now you know what your other options are, let's look at why dental implant treatment is a cost-effective way to replace missing teeth. 
Prevents bone loss
You may think that dental implants cost a lot of money, and indeed they can; however, they are the only form of missing teeth replacement to prevent bone loss. Let me explain.
When a tooth is lost, the bone supporting the natural tooth root is no longer required. As such, it gets reabsorbed back into the body. This can kickstart a process of bone erosion that can affect up to 25% of the jaw within the first year. 
Because traditional dentures and dental bridges only restore the visible part of the tooth and not the tooth root, bone resorption continues and is why conventional appliances of this nature need to be replaced frequently. 
With dental implant treatment, the implant acts as an imitation tooth root – restimulating the bone tissue and preventing further bone loss.  So while a dental implant may cost more initially, it can preserve the jaw structure, and therefore, the ageing process for longer. When you get a consultation at your local dental clinic, they will explain the process in greater detail.
Hassle-free restorations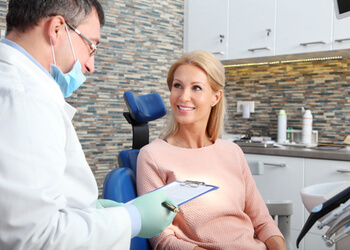 While treatments like dentures and dental bridges cost less than dental implants, they take a reasonable amount of looking after. You probably know that appliances like dentures should be removed every night before bed. This is (A) to rest the gums and (B) to sterilise them.
On the contrary, dental implants remain in the mouth indefinitely, and once they are stabilised, implants become an integral part of the jaw. Therefore after the surgical process, they need minimal care – simply brush and floss just like your remaining teeth. 
So now you know what dental implants cost and the implications of not undergoing an implant-based restoration; let's take a closer look at ways you can save money on treatment. 
Check your health insurance policy
While you will have to pay some out-of-pocket expenses, your health insurance cover can limit dental implant costs. Do check the small print, but typically, if you are covered for periodontal work and dental implants are not specifically excluded, you may be partially covered. You can always find a dentist that offers a no-obligation consultation to see if they accept your health insurer. 
Flexible payment plans
In some cases, dental implants cost can be mitigated by taking advantage of flexible payment plans. Many dental clinics now provide them, meaning patients can pay for the cost of dental implant treatment over a period of months instead of immediately after treatment completion. Why not take advantage of a dental consultation near you to find out more. 
So there you have it — the price of not having implants treatment and how you can mitigate dental implant cost.
At Southport Park Family Dental, we want you to have the treatment you fully deserve, including being comfortable with your dental implants cost. With this in mind, we provide several suitable payment options and accept all valid health insurances. Call today on (07) 5655 7688 and book your consultation.
References
Smile.Com/Au – How Much Does A Dental Implant Cost
https://www.smile.com.au/dental-treatments/implants#:~:text=Typically%20in%20Australia%2C%20the%20price,up%20to%20%245%2C514%20per%20tooth. 
Smile.com – Denture Treatment Guide  – Costs Procedures And More
https://www.smile.com.au/dental-treatments/dentures 
How Long Do Dentures Last
https://www.fixodent.co.uk/en-gb/advice-tips/living-with-dentures/cleaning-maintenance/how-long-do-dentures-last 
Healthline – How Long Can You Expect A Dental Crown To Last?
https://www.healthline.com/health/how-long-does-a-crown-last#types 
Advanced Perio Atlanta – What Causes Bone Loss Around Teeth?
https://advancedperioatl.com/bone-loss-in-teeth/#:~:text=peri%2Dimplantitis).-,Missing%20Teeth,bone%20resorbs%20into%20the%20body 
Finder.com – How Much Do Dental Implants Cost And Am I Covered?
https://www.finder.com.au/dental-implants